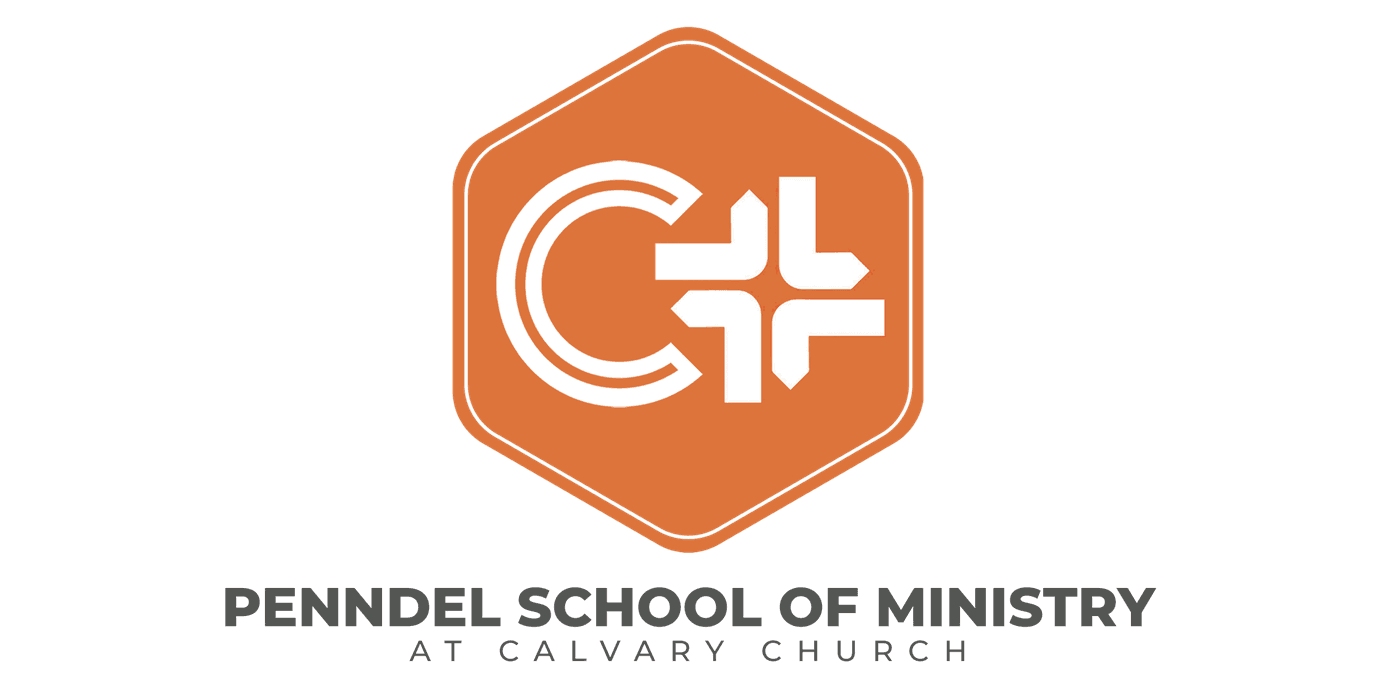 What is the PennDel School of Ministry?
PDSOM features live instruction and requires a minimum of five hours of classroom instruction and an exam per course. Prior to class time, students must read the textbook and answer related study questions. Informal student surveys indicate this pre-classroom component requires anywhere from 15 to 25 hours of individual preparation and study. Hundreds of students have already found PDSOM to be the answer for fitting quality ministry training into their existing life schedule.


Consider the benefits:
Convenience
Affordability
Training by educated and experienced church leaders
Perspectives and questions shared in a classroom filled with students who have years (often decades) of experience with churches and ministry in the same district
Networking opportunities with district leaders and fellow ministers
Motivation to complete coursework in time for scheduled dates
PennDel is a member of the Association of District Schools of Ministry. To learn more about the Association of District Schools of Ministry, please visit adsom.org/welcome.
Cost & Fees
REGISTRATION
There is a one- time, non-refundable initial registration fee of $75.00.


TEXTBOOKS
PDSOM will not provide textbooks. The student is responsible for the purchase of his/her own textbook. Textbooks range in price from $10 to $30 and can be purchased at local bookstores, or online at various resellers (amazon.com, christianbook.com, gospelpublishing.com). Students may also purchase used books from various online sources.
TUITION
Tuition for each course is $75. Internship cost is $100.00 each level for Level One, Level Two or Level Three. If registering after the 22nd to the 25th of the month, an additional late fee of $50 will be required.
Courses
Level One
AG History, Missions, Governance
Synoptic Gospels
Introduction to Pentecostal Doctrine
Relationships & Ethics
Introduction to Theology
Introduction to Hermeneutics
Old Testament Survey
New Testament Survey
Acts 2 Journey
Internship for LEVEL 1*
Level Two
Eschatology
Introduction to Homiletics
Acts
Romans
Missions
Prison Epistles
Leadership Skills
Local Church Evangelism
Conflict Resolution
Internship for LEVEL 2*
Level Three
Corinthians
Apologetics
Church Administration, Law & Finance
Theology of Worship
Pastoral Ministry
Pentateuch
Preaching in a Cultural Context
The Poetic Books
Pastoral Counseling
Internship for LEVEL 3*
Classes meet the 2nd Saturday of each month for all three levels of instruction.
Enrollment and Registration
Welcome to the PennDel District School of Ministry (PDSOM)! We are honored that you have chosen to increase your knowledge of Scripture, doctrine and ministry skills with us. Whether these courses are a part of your journey to receive credentials through the Assemblies of God or just to improve your understanding of God's word, we are here to help you along the way.
Steps to Enroll in PDSOM
Continue to the Enrollment page below. You will pay your enrollment fee and choose your username for my.penndel.org
PennDel will setup your my.penndel.org account and send you a confirmation email with your login information.
Once you have a my.penndel.org account, you will be able to register and pay for the class you wish to take.
Steps to Register for Class
Choose one of the Tracks below
Courses registrations open the 1st of the month preceding your campus instruction.
Course registration closes the 22nd of the month preceding your campus instruction.
Upon successful registration for a class, your course materials will be emailed to you immediately. Please check your spam/junk folder if you have not received your information.
Frequently Asked Questions
WHAT IS THE PENNDEL SCHOOL OF MINISTRY?
The PennDel School of Ministry is a convenient, fast-track, less expensive way that a person can satisfy the academic requirements for credentials with the Assemblies of God or simply go deeper in their understanding of scripture or ministerial topics.
DO I HAVE TO TAKE THE COURSES IN THE ORDER THEY ARE OFFERED?
No, courses can be taken at any time they are offered. You can even jump into the cycle in mid-stream, if you miss the first enrollment. However, the courses have been arranged logically in the best order to be taken. Example: The very first course is Hermeneutics, the art of proper scripture interpretation. We feel that a student should know how to "rightly divide the Word of truth" before diving into an intense study of it.
WHAT QUALIFICATIONS DO THE INSTRUCTORS HOLD?
We have attempted to screen our instructors very carefully. Most (but not all) of them have academic degrees that uniquely qualify them to teach the subjects they have been assigned. In some cases, their practical experience or significant success in a given field has given them the authority to speak to their assigned subject. Even so, with over 50 people on our faculty, not every one of them will always hit a home run. Students will be given an evaluation form for every faculty member in every class. This will help us to make changes if, and when they are necessary.
DO I HAVE TO HAVE A COMPUTER, E-MAIL, AND INTERNET ACCESS?
Although it is not absolutely necessary, internet access will be required for email communication. Most of our forms, SG's, and other materials will all be available for download from our website. We try to keep our costs minimal and avoid postage and handling by not having to mail anything. We do communicate with our students by e-mail; so, an e-mail account is necessary to receive our updates.
HOW IS PENNDEL SCHOOL OF MINISTRY ANY DIFFERENT THAN A SELF-STUDY APPROACH?
For many, the self-study route may still be the best way to go. However, that route has several shortcomings that PennDel SOM does not have.
We will provide the accountability that keeps you on task, moving toward your goal of obtaining credentials, we will provide a classroom environment that promotes exchange of ideas, beneficial dialogue and exposure to differing perspectives on the subject matter, you will be building relationships with your fellow students that you could not get with self-study programs, and you will sit under the teaching of experienced teachers who have been "in the trenches." These four benefits are available, of course, in a normal Bible college setting; and we still believe that is the best way to go. However, we realize that this is not possible for everyone; therefore the need for PDSOM.
WHAT WILL BE THE SCHEDULE FOR THE DAY OF THE CLASS?
You will arrive at 8:30 for check-in at the site. You will turn in your completed Study Guide at check-in and go directly to class. The first order of business will be the grading of the Study Guides, a brief discussion of your answers, and a review of the material you have studied. After a short break, you will take your final exam for the course and break for lunch. After lunch, the exams will be randomly distributed and you will grade someone else's exam. The rest of the day (until 5:00) will be spent in practical applications of the material you have learned. This will be a totally different learning experience from the typical classroom. The emphasis will not be on content delivery from teacher to student, but on the practical application of the material you have learned.