We are called by Jesus to be characterized by our love as his disciples (John 13:35). It is for this reason that we strive to have the heart of a servant and of generosity as we give and serve outside the walls of our church.
The Values of Calvary Cares
Loving the Least (Matt. 25:40)
Reaching the Next (Matt. 19:14)
Equipping the Poor (Psalm 82:3-4)
Establishing the Church (Matt. 16:18)
How Calvary Cares
Supporting Missionaries
Our care for the missionaries is both financial and practical. Financially, we give our missionaries 10% of every undesignated dollar given to Calvary. Practically, we support our missionaries by staying connected with them so we can help meet their needs. Some of these needs might include food or clothing not available in their area or providing resources for their family.
Investing in Projects
The Calvary Cares Campaign exists to not only support missionaries, but also partner with local organizations in need. Each year we carefully select several projects that we can invest in and help further the mission of organizations making a difference in the world.
Mission Trips
Throughout the year, we have various Mission Trips. Our goal is that everyone at Calvary will have the opportunity to go on a mission trip at some point in their lifetime, and that everyone has an opportunity each year to serve others outside our church.
Community Engagement
Calvary Cares is present in our community and cares for the needs of the hurting in our community in practical ways.
2020 Projects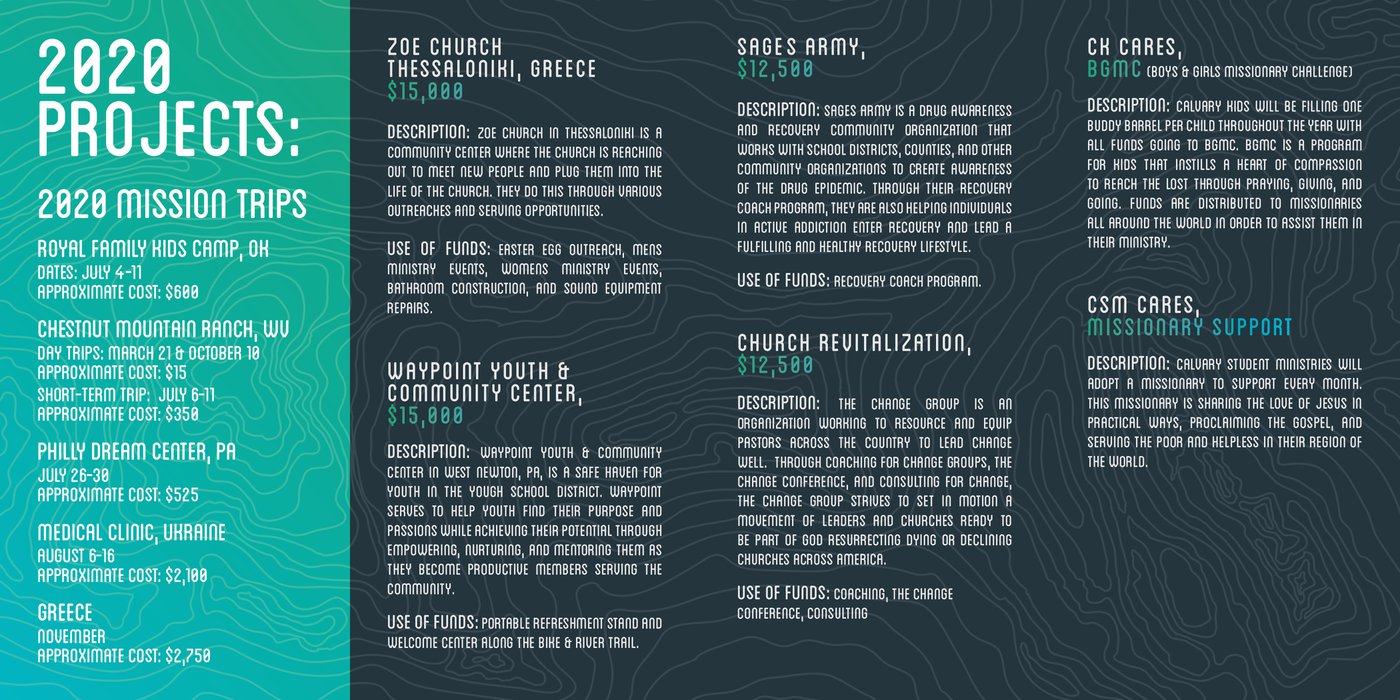 Crisis Care
Are you or somebody you know in need of assistance? If yes, you can check out our Crisis Care website for more information how we can be a blessing to those in need.