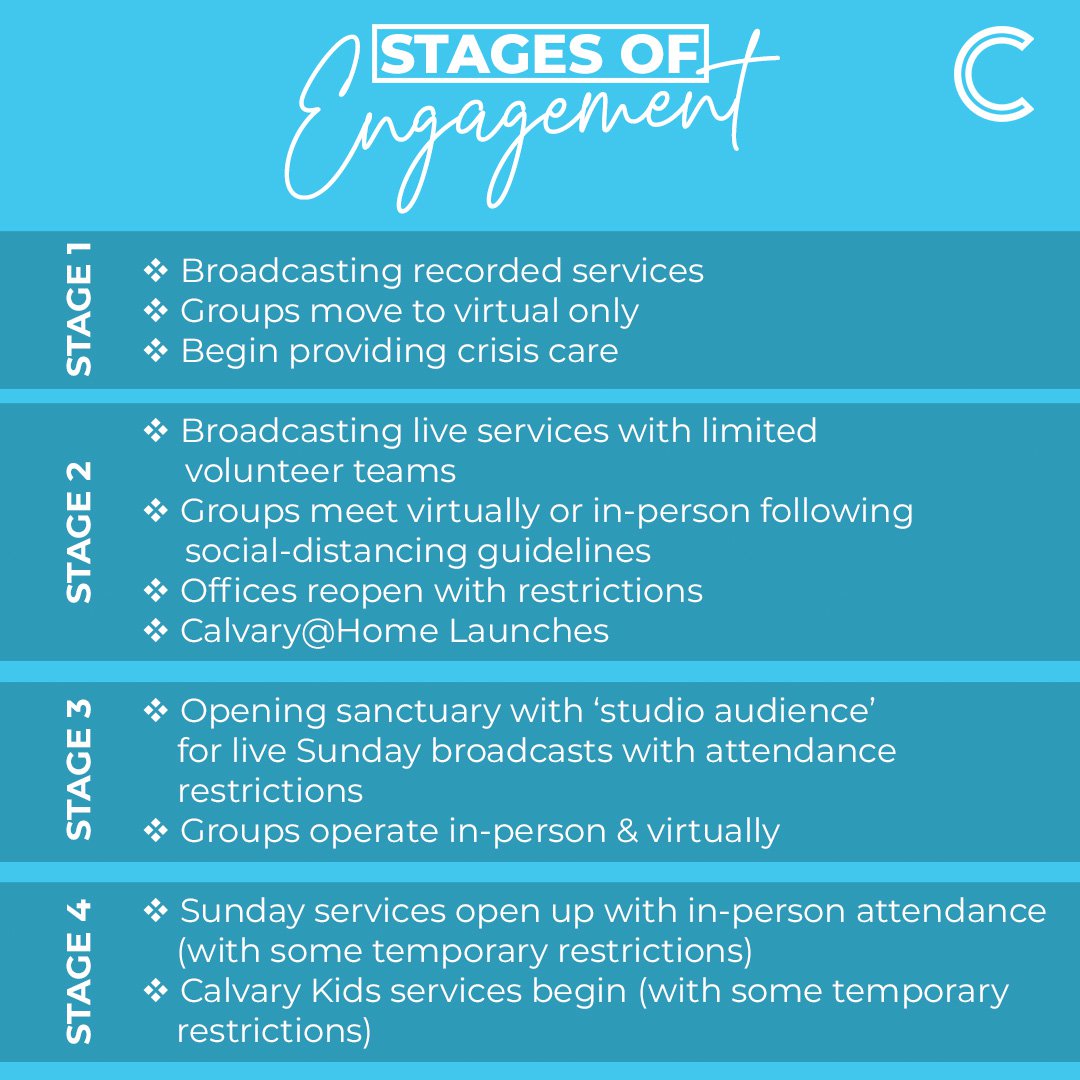 We have been working hard and putting plans into place and together we want to communicate a general structure of how we are operating as we walk through various "Stages of Engagement" in the coming months at Calvary. Below are those stages with some explanation. These are of course could be potentially adjusted should regulations change:
STAGE 1
Broadcasting recorded services
Groups move to virtual only
Begin providing crisis care
STAGE 2
Broadcasting live services with limited volunteer teams
Groups meet virtually or in-person following social-distancing guidelines
Offices reopen with restrictions
Calvary@Home Launches
STAGE 3
Opening sanctuary with 'studio audience' for live Sunday broadcasts with attendance restrictions
Groups operate in-person & virtually
STAGE 4
Sunday services open up with in-person attendance (with some temporary restrictions)
Calvary Kids services begin (with some temporary restrictions)
If at any time you have questions or there is anything we can do for you, please don't hesitate to contact us at (724)863-3079 or email us at info@calvaryirwin.com. We are blessed to have you part of our church family and are excited to continue to watch God move through our church during times like these and in the months to come!As we prepare to keep your safety in mind we will not be hosting our in-person gatherings through the month of March.
We encourage you to join us online at 10:30am each Sunday for our livestream on Facebook and YouTube. Click here to learn how to watch online!
We will also have content available for our Kids & Teens on their social media accounts on March 22nd and 29th.
Groups will continue to meet but in a different way. Many groups are moving to virtual groups via video chat. Please contact your Group Leader to learn what your group will be doing. Now is a great time to join a group too!
Follow us on Facebook, Instagram and YouTube to stay up to date with this fluid, changing situation.
And as we move online, we'll be posting different videos through our YouTube Channel and our various social media accounts, so follow us and stay in the loop.
Giving
We know that COVID-19 has had a major economic impact on many of our families and businesses, including Calvary! With not meeting in person you may be wondering how you can give your regular tithes and offering. You can continue to give in two ways:
Online Giving - You can set up recurring or one time giving right here online!
Mail - Simply mail in your tithes and offering and our staff will make sure it is processed.
Relief Efforts
We are committed to being the body of Christ in all situations and circumstances and believe that we are better together! As we continue to evaluate the impact that COVID-19 is having on our community, we wanted to make several resources available for you and our community.
Below are links to forms for those who need assistance or those who could provide support in the following areas. Our goal as the body of Christ is to empower each person within our church and community to help others in need.
We are aware of additional needs in the community and are waiting for responses from local organizations regarding food needs for students.
If you need assistance or can aid with childcare, senior home assistance, or have a resource need, we want to connect you to those who may be able to help! Please share these links with others who can help us show Christ amid this chaos.